IPLOOK has become a member of GSA
IPLOOK Technologies Co., Ltd (Branded as "IPLOOK"), a global industry-leading end-to-end mobile network solution provider for decades, becomes an Associate Member of the GSA: https://gsacom.com/associate/iplook-technologies/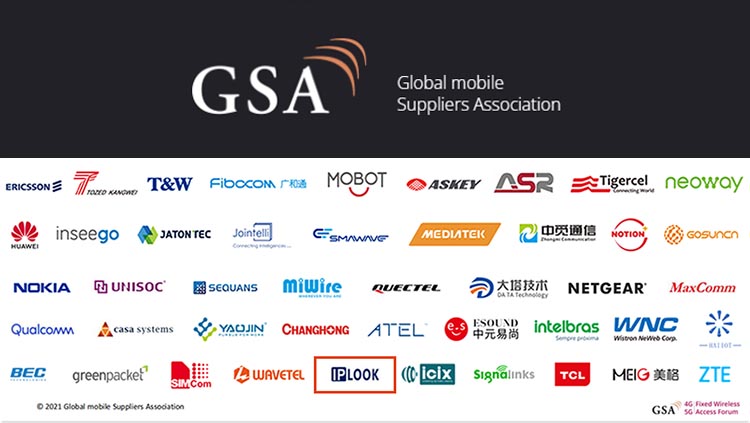 GSA (the Global mobile Suppliers Association) is a not-for-profit industry organization, representing companies across the worldwide mobile ecosystem who are engaged in the supply of infrastructure, semiconductors, test equipment, devices, applications and mobile support services.

"5G is clearly a highly competitive market, it's also highly collaborative,"said Joe Barrett, President, GSA. "GSA is a whole ecosystem of regulators, vendors and operators who are working together to drive global harmonisation of spectrum, innovation in networks and devices, and new use cases for 5G in both consumer and enterprise markets."

With the continuous development of telecommunications technology, the needs of human communication have been greatly fulfilled, and the next step in communications is to achieve the "Internet of Everything". As a member of the GSA,IPLOOK will work closely with other GSA members on IMT technology evolution and spectrum studies, with the devotion to build a global industrial ecosystem in the 5G era.

"
GSA is an internationally recognized organization in telecom industry. IPLOOK highly appreciates GSA's efforts and achievements in mobile communication technology and industrial ecosystem building. As a leading provider of mobile network solutions, IPLOOK is proud to be a part of the GSA to advance further and continue to contribute to the development of the global IMT industry." said Dong Lyu, CEO of IPLOOK.
About GSA
GSA (the Global mobile Suppliers Association) is a not-for-profit industry organization representing companies across the worldwide mobile ecosystem, actively promoting the 3GPP technology road-map -3G; 4G; 5G - and it is a single source of information for industry reports and market intelligence. Members of GSA drive the GSA agenda and define the communications and development strategy for the Association.

For more information, please visit the GSA corporate website at https://gsacom.com
About IPLOOK
Established in 2012, IPLOOK Technologies is a leading software company of 3G/4G/5G core network with flexible development, customized services and end-to-end mobile core solution. Our highly scalable and virtualized 5GC/EPC/IMS software technology can be deployed in over 30 countries worldwide, connecting over 30M subscribers, including MNO, MVNO, WISP and Private Networks.

Contact us for more information or follow us on LinkedIn@IPLOOK Technologies.