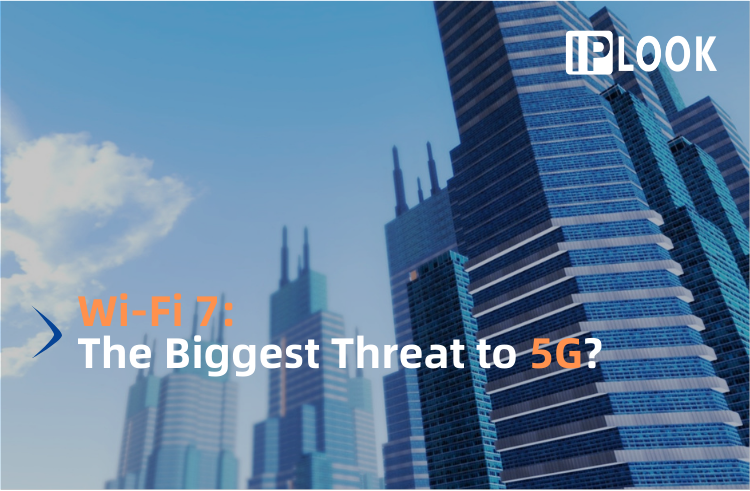 Wi-Fi 7, the successor to Wi-Fi 6, introduces the 6GHz frequency band, doubling the maximum frequency bandwidth from 160MHz to 320MHz. It allows the 16x16 MIMO configuration and supports 4096QAM modulation technology, which offer significant improvements in data rates, capacity, and spectral efficiency, ultimately enhancing the performance and user experience in wireless communication systems. With a maximum data transfer rate of 46Gbps, Wi-Fi 7 is nearly 4.8 times faster than Wi-Fi 6.
Wi-Fi 7 boasts increased data throughput and reduced latency, bringing it closer to the capabilities of 5G. Given its impressive performance, one might wonder if Wi-Fi 7 will replace the equally powerful 5G technology.
In fact, Wi-Fi 7 and 5G serve different market applications and complement each other rather than compete. These two technologies are expected to coexist in the long term, offering users a choice rather than a mutually exclusive selection.
The primary objective of Wi-Fi 7 is to provide wireless broadband access within fixed indoor areas. It does not address the issue of mobile device handover between different domains. Typical applications of Wi-Fi 7 include WLAN networks in shopping malls, airports, theaters, sports stadiums, and factories. It is especially well-suited for delivering high-speed, low-cost access solutions to home broadband networks for the general public. On the other hand, 5G/6G technologies aim to solve the wireless broadband access problem in mobile scenarios. Future 6G networks will find applications in areas like smart factories, intelligent mines, low-latency and high-bandwidth services for metaverses and virtual reality, high-bandwidth access for high-speed transportation such as trains and airplanes, high-density and large-scale device connectivity for the IoT, and ubiquitous interconnection for aviation, aerospace, maritime, and land domains.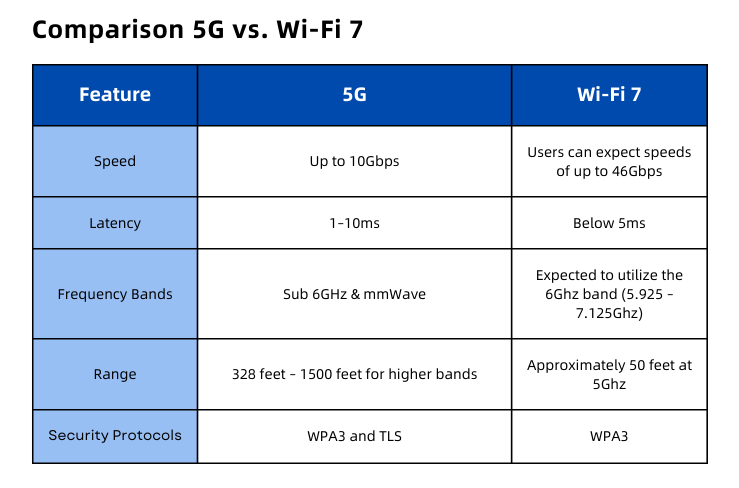 Both Wi-Fi 7 and 5G support larger bandwidth, more connected devices, and lower latency. They enhance performance through MIMO technology and wider spectrum bandwidth. Therefore, there is indeed some competition between them. Firstly, Wi-Fi devices divert mobile data traffic away from 5G networks by connecting to fixed networks through wireless routers. Secondly, there is a conflict in spectrum resources. Similar to Wi-Fi 6E, Wi-Fi 7 utilizes the unlicensed 6GHz (5.925GHz-7.125GHz) frequency band, enabling it to achieve a continuous bandwidth of 320 MHz. The problem is that not only the WiFi Alliance wants to use 6 GHz to enhance the performance of next-generation WiFi technology, MNOs are also eyeing this piece of "pie". (Europe, America, and some Asian countries have already opened up some or all of this frequency band for Wi-Fi 6E usage. China has allocated the 6GHz to 5G/6G. )
Wi-Fi 7 and 5G/6G are promising wireless technologies for the future, each with its advantages and disadvantages depending on the application scenario. In simple terms, if you require long-range coverage, high speeds, and seamless mobility, 5G/6G is the best choice. If you need high download speeds and lower power consumption within small spaces like offices or homes, Wi-Fi 7 may be more suitable. So some people think Wi-Fi will never replace 5G. Instead, these technologies will coexist and complement each other based on different scenarios.
While others think that in certain industry applications, due to the high speed and low latency of Wi-Fi 7, coupled with its low cost, it may partially replace some private 5G networks.

What's your opinion?