IPLOOK's Simplified Converged Core
Both NSA and SA of 3GPP R15 focus on requirements of eMBB services at the early stage of 5G. Different operators select the corresponding deployment mode according to deployment time, spectrum situation, competition requirements and maturity of the industry chain. Because the 5GC NSA still uses the traditional 4G EPC, the architecture and functions have not changed much, and cannot address fast customization capability, slice-based operation capability and highly automated intelligent O&M capability. Therefore, a new 5GC needs to be built in the end. Considering the urgent requirements for cost reduction and service innovation of operators, a simplified Common Core is provided. It supports 5G NSA/SA and meets the requirements for full access and integration of 2G/3G/4G/5G/Fixed.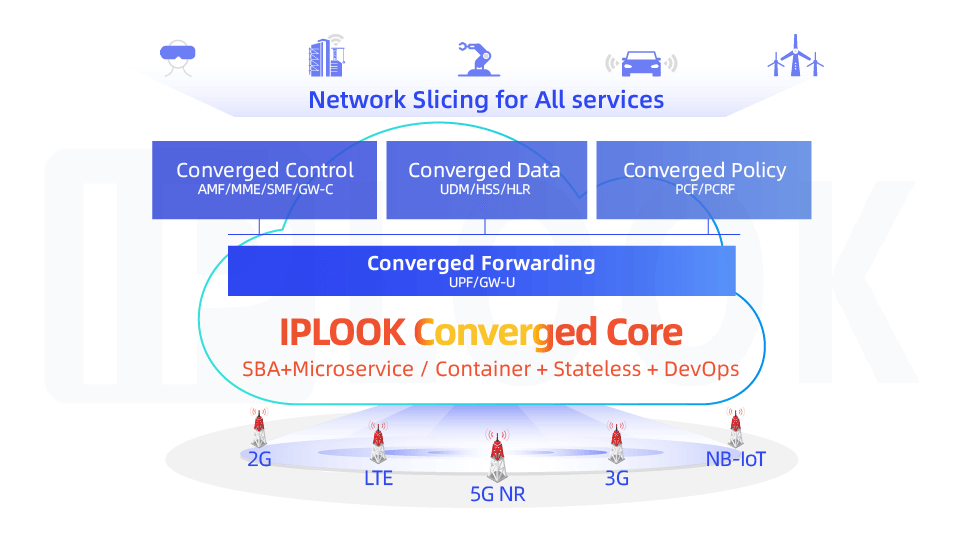 Converged UDM+HSS is deployed to provide unified centralized management of 2G/3G/4G/5G user subscription data. In the early stage of 5G, it only needs to migrate the data of users upgraded from 4G to 5G. In the middle and later stage of 5G, original 4G users are gradually migrated to the new converged UDM+HSS according to the situation of traditional HLR/HSS equipment in the existing network. The provisioning-free solution can be used to avoid mass user migration in the early stage.
Converged user plane, converged policy plane and converged control plane are deployed to support seamless handover of 4/5G users. At the initial deployment stage of 5G, the converged control plane naturally supports the charging interface of 4G. Therefore, the charging interface of 4G can be still used to avoid large amount of reconstruction work resulting from the introduction of the new charging system of 5G, which may delay the commercial use of 5GC.