With the rapid development of mobile network, SMS as the basic service of traditional wireless network is less and less used to communicate in our daily life. However, we still can't live without SMS, for example, when we register a new account, reset our passwords or send/receive the verification code, etc.
Here are the evolutions of SMS in each era.
2G/3G Era
In the 2G / 3G era, the SMS network element deployed in the network is called short message service center (SMSC), which is mainly used for SMS storage and forwarding.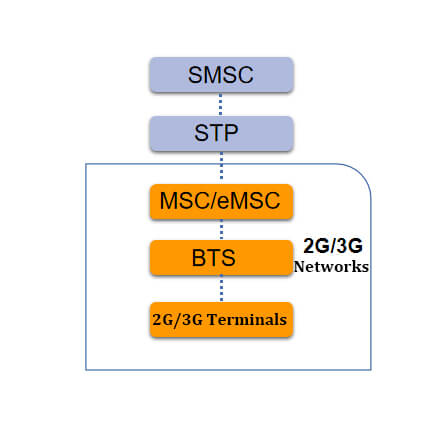 SMSC: Short Message Service Center
STP: Signaling Transfer Point
MSC: Mobile Switching Center
eMSC:Enhanced Mobile Switching Center
BTS: Base Transceiver Station
4G Era
In the 4G era, in order to reduce the transformation of the circuit domain and the upgrading cost of the SMS center, IP-SM-GW network element is added in the 4G network, which is mainly responsible for forwarding the short messages between SMSC and 4G terminals, while the original 2G / 3G terminal sending and receiving short messages mechanism remains unchanged.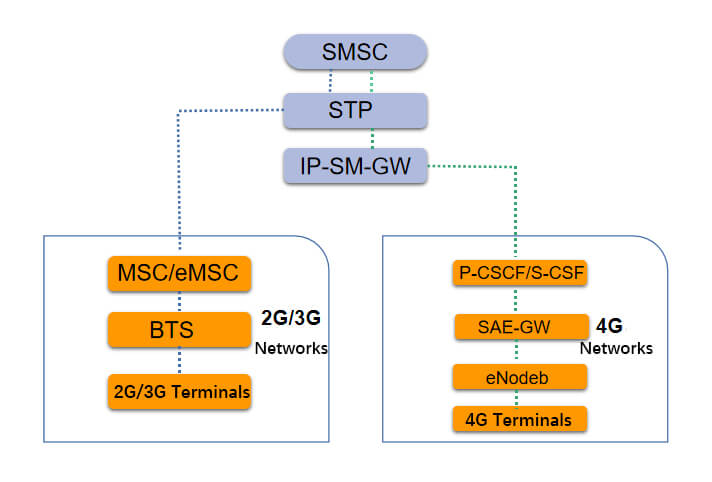 IP-SM-GW: IP-Short-Message-Goteway IP
P-CSCF: Proxy-Call Session Control Function
S-CSCF: Sevice-Call Session Control Function
SAE-GW:System Architecture Evolution-GateWay
eNodeb:Evolved Node B
5G Era
5G era will be an era of interconnection of everything. Compared with previous generations of networks, SMS solutions in 5G era have also undergone some changes. At present, there are mainly two solutions: SMS over IP and SMS over NAS.

SMS over IP Solution has little effect on the network transformation. The IP-SM-GW network element deployed in 4G era can provide 5G SMS for 5G terminals.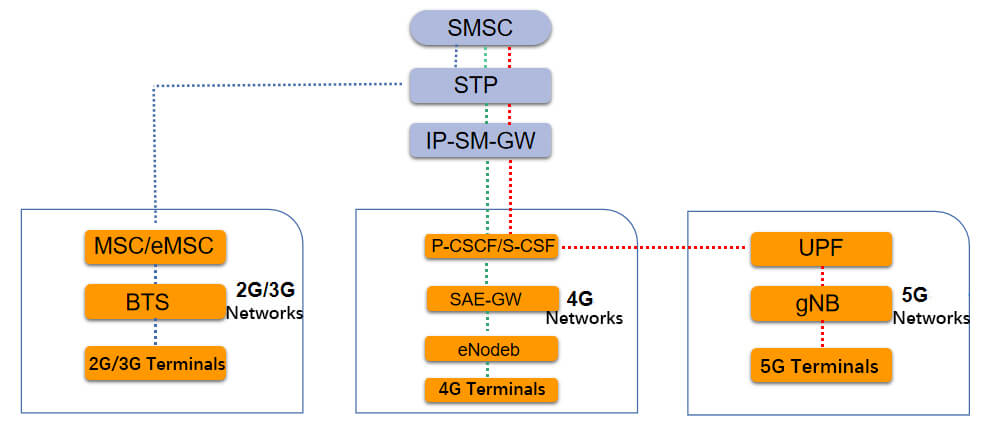 Owing to SMS over IP can utilize IP-SW-GW network elements deployed in 4G era, the transformation cost is relatively small, it is suitable for the initial stage of 5G network construction.

IP-SM-GW Network Element Function
SMS over NAS Solution
needs to deploy SMSF network element in 5G Core Network(5GC), which can provide 5G SMS for both UE and IOT terminals.
As we said before, SMS over NAS Solution needs to deploy SMSF network element in 5GC, it is suitable for 5G network coverage mature period.

SMSF Element
Generally speaking, no matter which solution is adopted, SMSC can support 2G, 3G, 4G, 5G SMSs at the same time, and also the transformation of existing SMSC and network structure is small.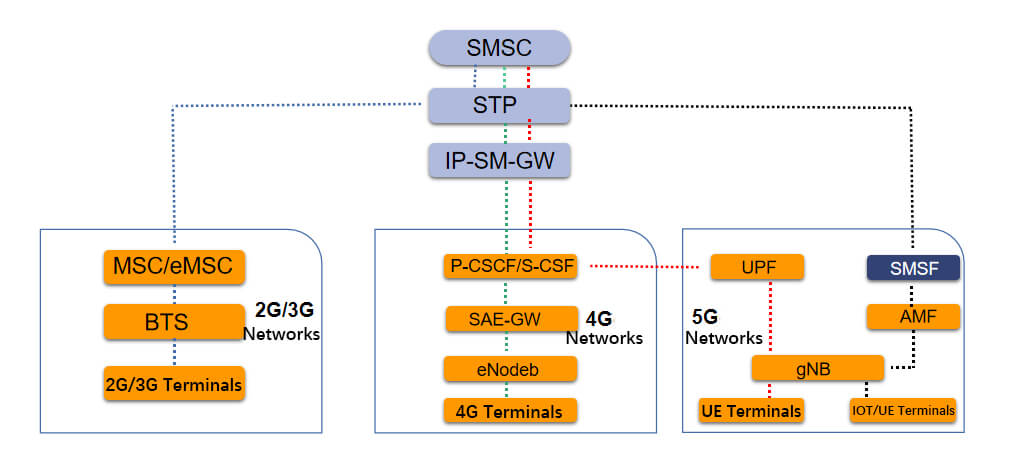 After 5G network coverage, it can flexibly adopt appropriate solutions according to the application of various terminal types in the network and the demand of SMS.