5G opens a new age in the world. A new private 5G network is springing up to meet vital wireless communication requirements in industry, infrastructure and public safety. So, what is private 5G network? It is not difficult to understand it literally. Private 5g network is a kind of Local Area Network (LAN) that will use 5G technology to create a private network with unified connectivity, optimized service and secure communication mode in a specific area.
Private 5G Network can be deployed in two ways.
Deploy a physically isolated private 5G network, also called 5G Island, which is independent of the public 5G network of Mobile Network Operators (MNOs). This is just like building a wired LAN or Wi-Fi WLAN in the enterprise. In this circumstance, enterprises or MNOs can build a private 5G network for themselves.
Build private 5G networks by sharing public 5G networks resource pool of MNOs. In this circumstance, MNOs will build a private 5G network for the enterprises.
The public 5G network and private 5G network share the core network hardware resource pools, transmission resources and wireless resources. IoT code number and public network code number can be used to separate public network and private network. Independent network elements, independent resources, independent radios are supported to provide a variety of flexible architecture and configuration methods.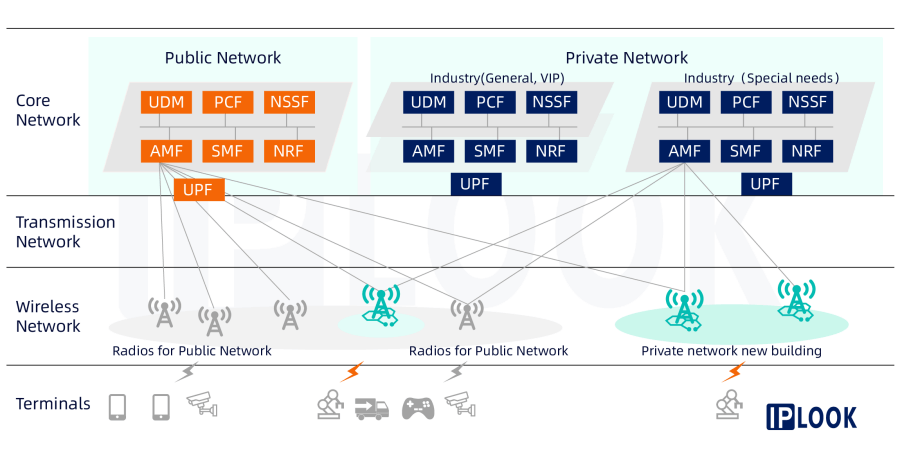 Roaming between IPLOOK 5GC and the Public Network
IPLOOK 5G Deployment Solution
• Absolute Security of Enterprise Data: private 5G networks and public 5G networks achieve physical isolation and provide complete data security, which can ensure the absolute security of enterprise data. At the same time, public 5G networks disconnection will not be affected. Also, some public network terminals can be allowed to access according to the policy.
• Ultra-low Latency: both core networks and wireless networks are deployed locally with short return distance.
• Autonomy and Controllability: even if public 5G networks are disconnected or congested, private 5G networks will not be affected.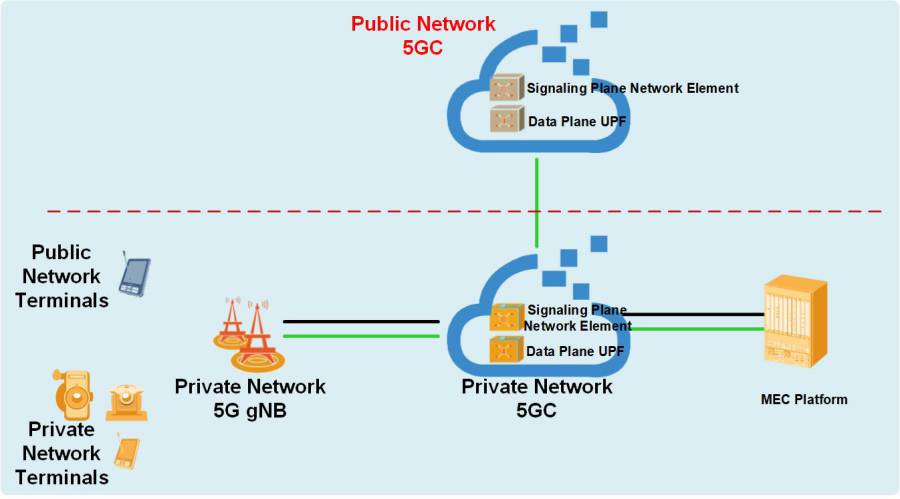 Completely independent 5G deployment
• Data Security: UPF deployment area can still ensure the security of enterprise data traffic.
• Ultra-low Network Latency: UPF can realize local streaming, which can ensure low network delay.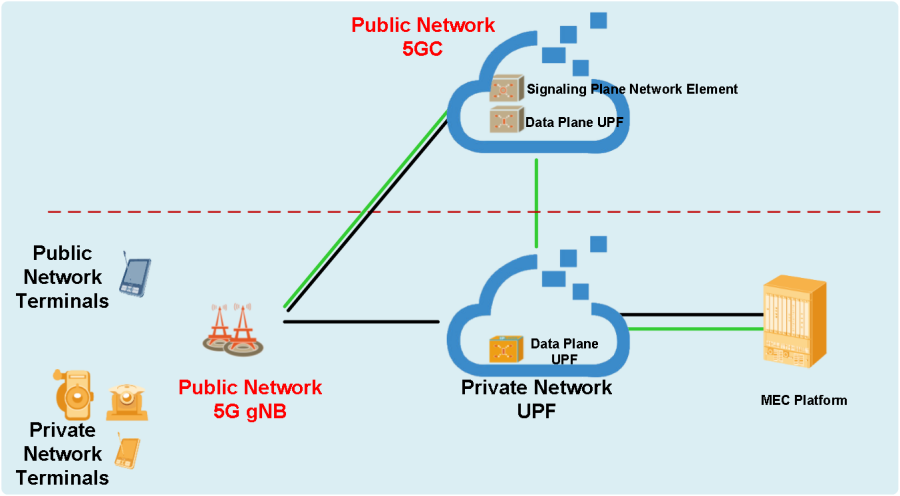 Data Plane UPF Falls Near Subscribers
Private 5G networks can deliver ultra-low latency and incredibly high bandwidth connections supporting artificial intelligence-driven applications serving an exploding number of sensors and endpoints. From the perspective of industry application, private 5G networks deployment can benefit sophisticated manufacturing plants, logistics centers and many other areas. Private 5G networks also provide many advantages for modern enterprises.
IPLOOK Technologies can help deliver a private 5G network solution. If you have any demands, don't hesitate to contact us.