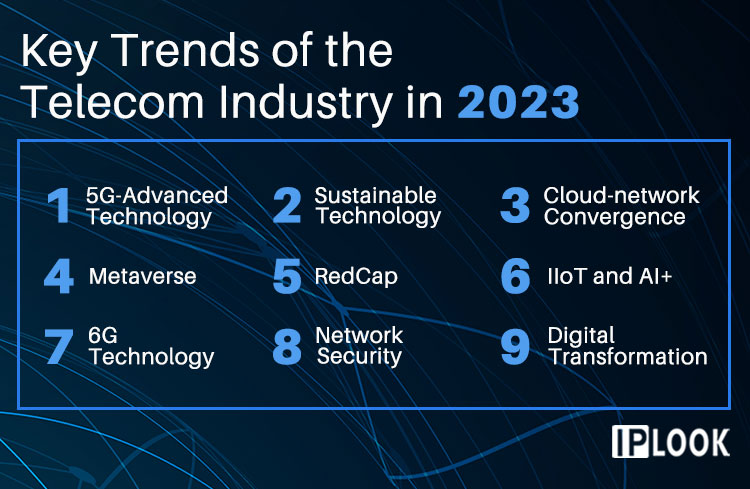 In the past year, we met with diverse keywords in the telecom industry: private 5G network, R17, R18, RedCap, V2X, F5G, MEC, converged core, Millimeter Wave and so on. Let's review the possible key trends to be focused in 2023!
The large-scale application of 5G technology
The global 5G network deployment has been speeding up rapidly in 2022. According to the latest survey, there are over 230 operators from 90 countries and areas providing 5G services. The 5G technology has been widely applied in all industries to exert its maximum strength. In 2023, the further large-scale application of 5G is confronted with the challenges of improving its value, lowering its cost and achieving its integration with other technologies.
The ongoing evolution of 5G-Advanced technology
3GPP R18, the first release of 5G-Advanced, labels the entrance of new stage: 5G-Advanced. The progress of its standardization work is in full swing now, to enrich the technical connotation of 5G-advanced technology, exploring new opportunities in the telecom industry.
Cloud-network convergence
In the aspect of architecture, 5G-Advanced network will take cloud-native network, edge network, and network as a service (Naas) into account, enhancing the network capacity to move towards the direction of cloud-network convergence as well as integrated network and computing.
The development of 6G technology
6G, one of the latest telecommunication technologies, is also focused by global experts and telcos. It is expected that 6G technology will make significant progress in 2023 and achieve its standardization within five years.
Broader application of Metaverse
As one of the most talked-about topics in 2022, metaverse is expected to achieve leap-type evolution in 2023, with the development of diverse technologies (5G, VR, AR and so on). The year of 2023 is a critical year when the application of metaverse has been expanded in all industries, thus stepping into the period of its rapid application expansion in e-commerce, financial, medical and educational industry. It is foreseen that more enterprises may accelerate the converged development of AI technology and VR technology in the future.
The new opportunities of IIoT and AI+
Based on Artificial Intelligent and Digital Twin technology, the Industrial Internet of Things (IIoT) will embrace unprecedented new opportunities. These technologies can achieve more effective network design, automatic process and secure validation, which may become the key to future industrial development.
Further digital transformation
The effect of digital transformation in all industries becomes increasingly evident. Motivated by innovation, 5G technology, cloud computing, artificial intelligent and metaverse alike technologies will keep exerting force in 2023 to optimize the industrial structure and boost economic development.
New ground of IoT brought by RedCap
It is foreseen that the amount of IoT devices is exponential explosive growth. All roles in the industry chain may strengthen the cooperation relationship in the future, to provide reliable IoT network.
Network security: deploy a more secure and reliable network
Sustainable technology: develop low-carbon and green technologies
...