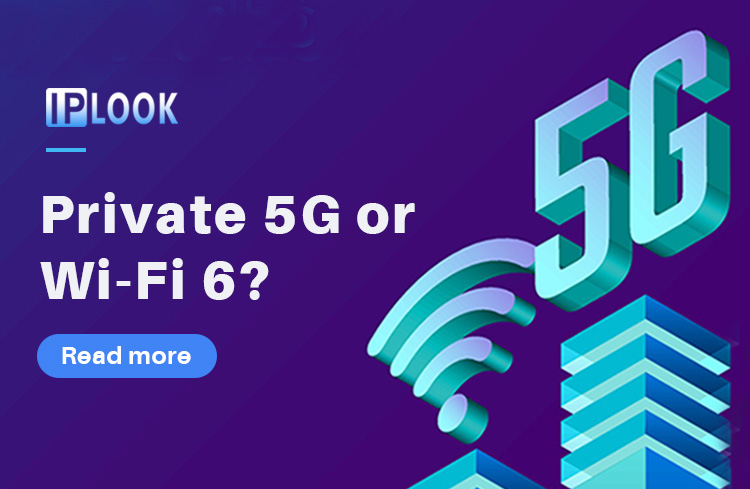 Private 5G networks or Wi-Fi 6 networks? This is a question.
There are various pros and cons to consider when comparing private 5G network and Wi-Fi 6 network.
Private 5G network
With the same technology as public cellular networks, private 5G network supports network services with super fast speed, massive capacity and low latency, leveraging the advanced 5G technology to ensure extraordinary user experiences.
Wi-Fi 6 network
As the new generation of Wi-Fi technology, Wi-Fi 6 focuses more on efficiency and performance, enhancing the speed and reliability of wireless network.
The comparison of Private 5G network and Wi-Fi 6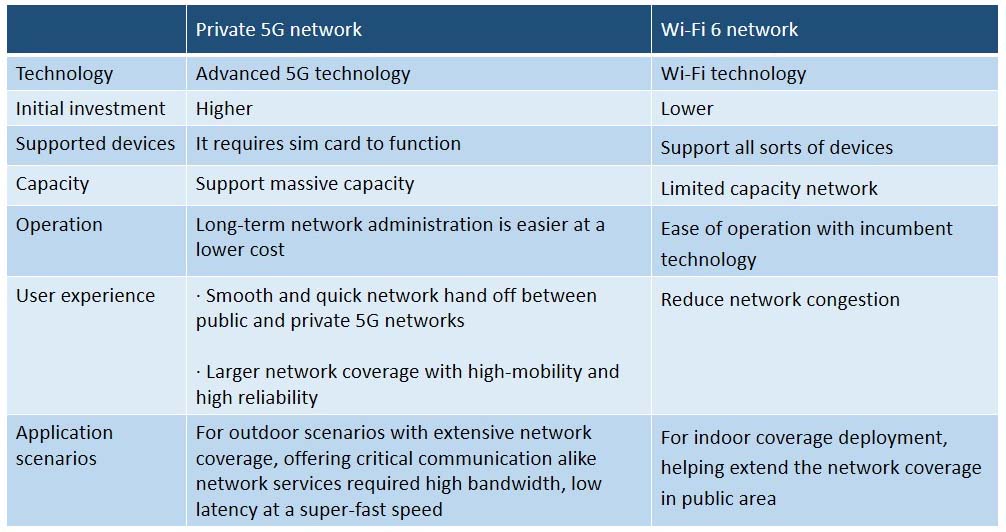 The relationship between Private 5G network and Wi-Fi 6
Wi-Fi technology has been the dominant role in the telecom industry. But with the rapid evolution of 5G cellular technology, they seem to be complemented each other in network deployments nowadays.
In some cases, such as the industrial networks, the converged solution combined with private 5G networks and Wi-Fi 6 networks may exert the maximum strengths of them.
The coexistence between private 5G network and Wi-Fi 6 can flexibly handle more available resources due to Wi-Fi technology, meanwhile support massive capacity because of 5G technology.
How to choose between Private 5G network and Wi-Fi 6?
1. Wi-Fi 6: to deploy a network at a low cost
To cater to small or mid-sized enterprises' needs, Wi-Fi 6 network enables them to provide network services at a low OPEX including low equipment, installation and maintenance expenses.
2. Private 5G network: designed for wider network coverage
If you have higher requirement of wide network coverage and security, private 5G network can be a better solution. It is built with small cells which means short-range distribution radio network nodes are utilised to create 5G wireless framework, ensuring wide-range and stable network connectivity.
3. The converged solution combined with private 5G network and Wi-Fi 6: used in Industry 4.0
Combined with high-secure 5G and cost-effective Wi-Fi 6, the practical application solution has potential in IoT, intelligent driving, industrial network and other fields.
With this solution, enterprises can manage through the Wi-Fi 6 network, meanwhile enable large-scale manufacturing processes under the private 5G network.
Conclusion
Although contrasting in many aspects, private 5G and Wi-Fi 6 will coexist in the implementation of use cases, complementing each other with their own set of advantages.
To ensure reliable and high-efficiency network connectivity, enterprises should choose a suitable solution based on their specific requirements.