IPLOOK and SigScale Partner to Deliver a low-cost Solution for New Operators
IPLOOK Technologies Co., Ltd (Branded as "IPLOOK"), a global provider of 3G/4G/5G converged mobile core network products and solutions to Operators, MVNOs, WISPs and Enterprises, announced a strategic partnership with SigScale Global Inc (Branded as "SigScale"), an open-source company focused on software solutions for communications service providers (CSP). Together, the companies will deliver a low-cost solution for new operators with a full stack of 3GPP and TM Forum standard interfaces.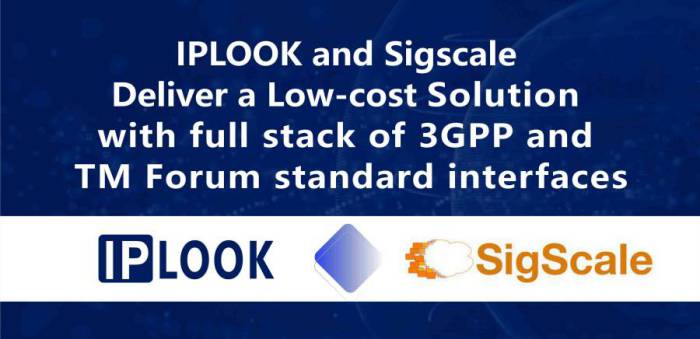 The joint solution combines IPLOOK's LTE infrastructure equipment, IPLOOK 4G Core Network (EPC) and eNodeB, with SigScale Online Charging System (OCS).
Recently, The IPLOOK EPC product has performed interoperability testing successfully with SigScale OCS.
IPLOOK EPC is a fully integrated and scalable solution that can be upgraded to converged 5GC smoothly, it supports all eNodeB vendors openly and multi-charging mode (like RADIUS, OCS, CG), and provides 3GPP standard interface for roaming with MNOs. And SigScale OCS is relied upon by global CSP to provide real-time charging of prepaid voice, data and messaging services, it provides TM Forum standard interfaces for charging services. The companies have complete and cost-effective solutions, flexible options, and a worldwide support network for global customers, they are committed to evolve your network, reduce the total cost of ownership (TCO) and support your revenue growth.
"We are delighted to collaborate with IPLOOK and eager to help operators advance the market opportunities with this powerful joint solution," said Vance Shipley, CEO at SigScale. "
SigScale OCS compliments IPLOOK EPC with a business support solution enabling commercialization of the network.
"
"IPLOOK adheres to the principle of openness and win-win for interoperability. The successful interoperability with SigScale OCS can bring a wider range of options to customers and IPLOOK will join forces with SigScale and other partners to provide more innovative and cost-effective solutions for MNOs in emerging markets," said Jarod Wang, VP at IPLOOK Technologies.
About IPLOOK
IPLOOK Technologies is a leading software company of 3G/4G/5G core network with flexible development, customized services and end-to-end mobile core solution. IPLOOK services cover 35 countries or regions for more than 30 million people. We have accumulated rich cases of 3G/4G/5G commercial deployment in the field of wireless communication.

Our products include 5GC, EPC(MME/ HSS/HLR/ SGW/ PGW), IMS, MEC, NB-IoT/eMTC Core, GTP-Router and MCPTT system. Currently, we have completed interoperability testing on our standardized core network products with most radio vendors at home and abroad, providing great compatibility.
More information can be found at:
https://www.iplook.com
About SigScale
SigScale is an open source company focused on software solutions for communications service providers (CSP). Our core competency is in signaling and distributed fault tolerant systems. We have developed our own protocol stacks (SIGTRAN, MAP,
CAMEL
) in Erlang,
allowing us to build microservices with very low footprint and massive scalability.
SigScale is an active member of TM Forum the industry association providing leadership in digital transformation for CSPs and their vendors. TM Forum has been setting the standards and best practices for the operations and business support systems (OSS/BSS) domain for decades.
More information can be found at:
https://sigscale.com/