5G witnesses the significant innovation in telecom industry. It is also seen as the major driving force of IoT and industrial IoT. When the automatic and flexible industrial applications are needed in our lives, edge computing and artificial intelligence matter a lot for gathering and analyzing massive data in the application of IoT.
Sometimes, it is necessary to combine fixed network and wireless network technology to realize large-scale IoT application because the technology may be not mature and advancing enough to meet the high-standard requirements.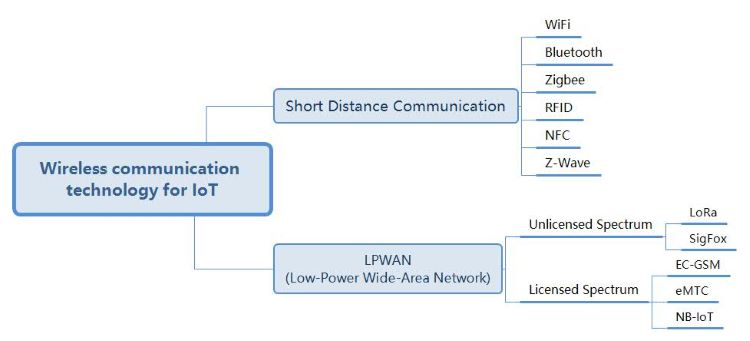 The classification of Wireless communication technology for IoT
5G and industrial IoT
Except for industrial IoT, 5G can be applied in more application scenarios, which enlarges the applications of mobility.
As the enhanced mobile broadband, 5G aims at realizing large-scale IoT, providing network capabilities for IoT applications in diversified scenarios. From vehicles connected with Internet and relevant mobile entities to large-scale machine communication even connection among billions of IoT equipment, these functions and applications are all based on a wireless network.
IPLOOK NB-IoT solution
NB-IoT is a standards-based LPWA (Low Power Wide Area) technology developed to enable a wide range of new IoT devices and services, supporting flexible, virtualized and compact deployment.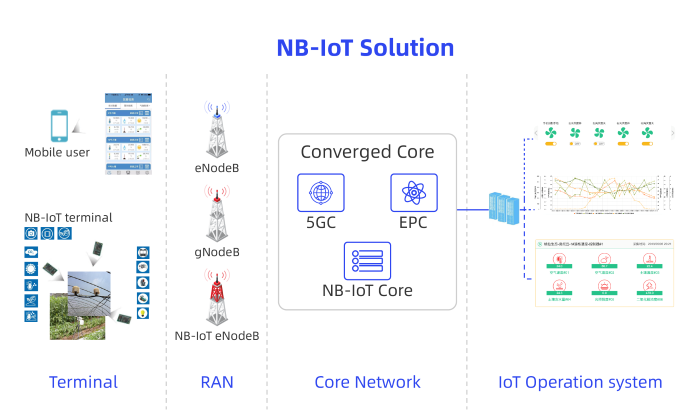 IPLOOK NB-IoT Solution
Compared to the legacy LTE, SCEF (Service Capability Exposure Function) is introduced in the NB-IoT network architecture to support the optimized options for control plane and NIDD (Non-IP Data Delivery), and the relevant interfaces are also introduced (T6 interface between MME and SCEF; S6t interface between HSS and SCEF).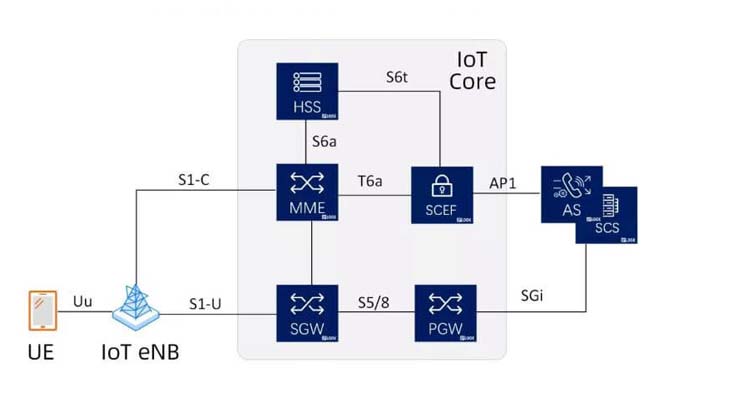 IPLOOK NB-IoT Core Network architecture
Co-deployment of NB-IoT and 5G NR
IPLOOK NB-IoT Core Network can support smooth upgrading to 5G based on 3GPP R16. Therefore, R16 NB-IoT new terminal can access 5GC (5G Core Network).


The future of 5G and IoT
Evolved from LTE and LTE-Advanced network, 5G has the brand new network architecture and may be applied in all industries in the near 20 years. Although the commercial launch of 5G is still in the preliminary stage, 5G has already been applied in IoT communication.
As one of the three application scenarios of 5G, mMTC (Massive Machine Type Communication) focuses on the application of massive IoT services. Therefore, 5G has advantages in wide coverage, massive connection and security, enabling IoT access.
The aim of 5G era is to connect everything together. Many researches demonstrates the result that 5G plays a crucial role in promoting IoT. With the stronger competition among 5G operators, larger-scale application of IoT may appear in the future.
Contact us for more information!