IPLOOK End-to-end 5GC Network Slicing
5GC Network Slicing
A network slicing is a logical network serving a defined business purpose or customer, consisting of all required network resources
configured together. It is created, changed and removed by management functions. Network slicing divides an operator's
physical network into multiple logical networks.

The network slicing system ar chitecture consists of three parts: UE, network slicing customer service platform and carrier network.
The latter includes network slicing infrastructure providing the necessary support for network slicing in RAN,
Transport Network (TN) and Core Network(CN) and implements assurance. Main functions of network slicing service
operation include network slicing offering release, network slicing offering subscription, network slicing charging, and network
slicing member management.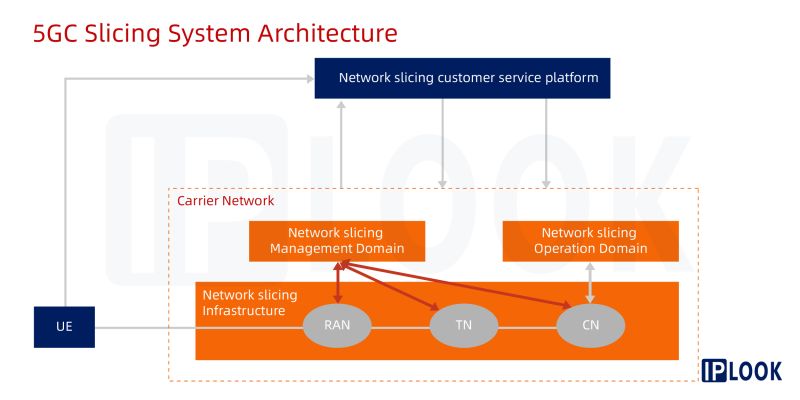 Core Network architecture with network slicing support example
The Core Network is considered as the most critical and essential part in networking. The CN provides the network services for
the tenants and their end users, for instance control plane functions (mobility management, session management,
policy control, and charging) and user plane functions (data forwarding). To meet the diversified demands of vertical
industries, the network service customization and on-demand deployment are the key concepts that need to be reflected
in the CN design.

The CN have the following attributes:
✔Cloudification
✔Modularization
✔Service-Orientation

As illustrated in Figure, the Core Network adopts a service-based architecture design methodology, which includes a unified
database to enable a coherent view, and a programmable user plane to support network slicing. The Core Network architecture promotes
the simplification of signaling interactions, enables the distribution of network functions, and allows customized network function
placement (e.g., close to the Access Network to reduce latency).