We have launched one of the 5GC network elements--NEF (Network Exposure Function) for a period of time. Its function is more powerful than you think. We will introduce more details about it in this passage.

As is known to all, comply to 3GPP standard, IPLOOK 5GC has the features of higher speed, lower latency, flexible mobility and more connections.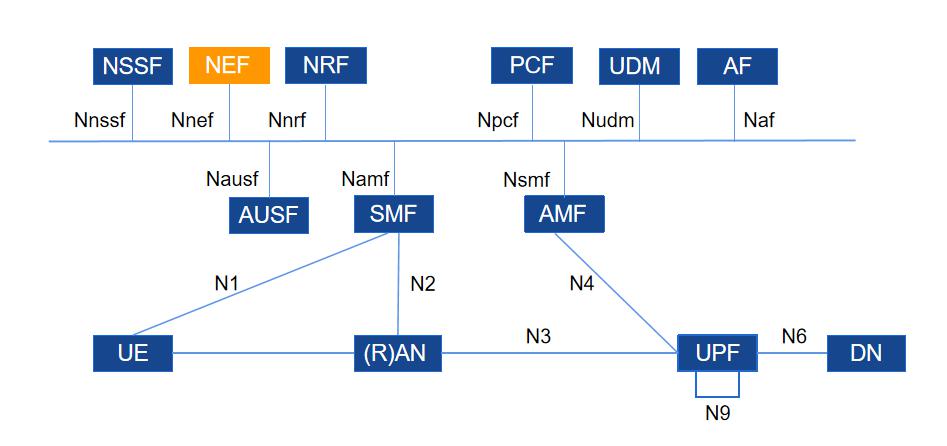 5GC SBA network architecture
Compared with 4G EPC network architecture, IPLOOK SA 5GC has great changes. It adopts cloud-based micro-service architecture to transform traditional network elements into network functions (NF). At the same time, the software and hardware are separated, and the cloudification and virtualization are also introduced.

In the capability aspect, IPLOOK 5GC adds NEF which is one of the network functions of 5GC to open the standard interface. Comply to 3GPP standards, NEF provides opening function for third-party system and ensures the security.

IPLOOK 5GC NEF guarantees the security while external AF (Application Function) connects to 3GPP or non-3GPP network , and it provides AF QoS customization, mobility status event subscription, AF request distribution, etc.

IPLOOK 5GC NEF is connected with all NFs through SBA architecture. It opens API through N33 northbound interface. The external opening connection between NEF and AF is responsible for the transmission and translation of external processing information, and completes the call from external request to internal NF (like PCF or other NFs).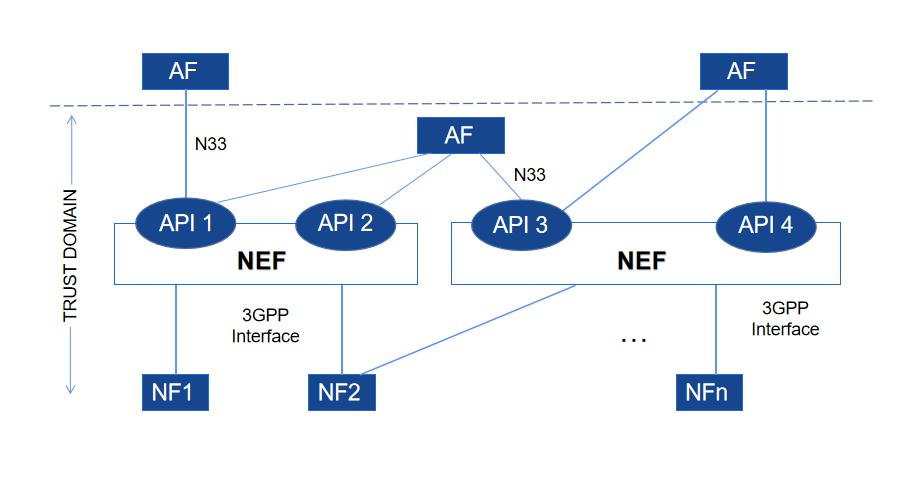 5G System Open Capacity Topology
The existence of NEF makes 5GC function standardized, which greatly facilitates the access of the third party. For example, in the application of edged area, as one of the AF, MEC requires PCF to unload the traffic to the local server through NEF. At the same time, NEF shields sensitive information of network and users, and ensures the security of the system.
Application case
NEF and MEC combined to provide high reliability and low latency network services for game users. The game acceleration platform is deployed in MEC to monitor and analyze user usage, and the analysis results are sent back to 5G network through NEF to inform the network to establish high priority connection for users, so as to achieve the purpose of accelerating the use of game services for users and improving their experience.

Overall technical architecture of game acceleration system
The application of MEC and NEF can not only enhance the perception of game users, but also bring us more benefits than other 5G applications. With the rapid development of telecommunication industry, core network has great market potential and strong customer demand. Open and integrated communication capacity has become the focus of 5G network development.

In 5G aspect, we are still at the basic stage. Our purpose is to transform the network ability into business ability and call for the wider & deeper operation of network capabilities. As a leading 3G/4G/5G core network provider, IPLOOK are willing to provide more professional and faster services for our customers in various industries.
​​​​​Glossary
AF (Application Function) is a logical element of the 3GPP PCC framework which provides session related information to the PCRF in support of PCC rule generation. AF is like an application server, which interacts with other 5G core network control planes. It can exist for different application services, and can be owned by operators or trusted third parties.

MEC (Multi-Access Edge Computing) is a means by which compute/storage resources can be positioned closer to the subscriber's point of attachment to the network. So, in the case of 5G for example, it's possible that the UPF (User Plane Function) is situated at the RAN site in order to provide access to MEC resources that are in close proximity to the subscriber.

PCF (Policy Control Function) is related to the 3GPP 5G Architecture. This function supports the unified policy framework that governs network behaviour. In so doing, it provides policy rules to control plane functions to enforce them. In order to facilitate this the subscription information is gathered from the Unified Data Management function.
If you are interested about NEF, feel free to contact us for more details.