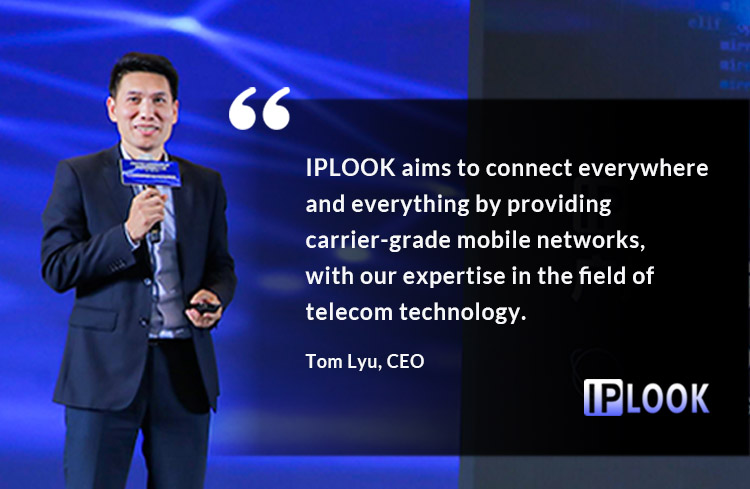 Tom Lyu, CEO of IPLOOK, recently discussed IPLOOK's 2021 changes and shared what's ahead for the development in 2022.
Established in 2012, IPLOOK has accumulated 10-year-experience in the telecom industry by now, serving cover 50 countries for more than 30 million people. IPLOOK can offer a complete mobile core network product line including 5GC/EPC/3G Core/IMS for MNO (Mobile Network Operator), MVNO (Mobile Virtual Network Operator), WISP (Wireless Internet Service Provider) and Private Networks.
After moving into new office and expanding the team with potential talents in 2021, IPLOOK paves the way for rapid development. This year, IPLOOK is working with more industry-leading partners and exploring the global market positively while a number of collaborative projects are underway. Meanwhile, IPLOOK continuously improves the quality of products and services to better meet customers' requirements.
Q: Why did you establish IPLOOK at the very beginning?
Tom: I have always been aware that there are still many remote countries and regions in the world without network coverage. With our expertise in the field of telecommunications technology, IPLOOK aims to connect everywhere and everything by providing carrier-grade mobile networks.
IPLOOK started out from the 3G/4G network business. The Evolved Parket Core (EPC) is rolled out in 2014. With 5G increasing commercialization, IPLOOK kicked off the 5G market by launching the 5G Core Network (5GC) in 2019 and the converged 3G/4G/5G core network in 2021. Moreover, IPLOOK has studied about 6G (LEO satellite communication system). Today, with IPLOOK technology, MNOs and ISPs can create and deliver new generations of differentiated, webscale 5G mobile services at unprecedented speed.
Q: What are the core advantages of IPLOOK?
Tom: Compared to other well-known equipment vendors, IPLOOK's core strength is to provide high-scalable and tailor-made network solutions with full-stack core network product line. More importantly, IPLOOK supports all-sized operators and enterprises to scale their networks to keep up with the rising demands for mobile services while dramatically reducing CAPEX and OPEX. It enables them to start their business easily.
Q: What will IPLOOK do to develop business in the post-pandemic era?
Tom: COVID-19 remains an obstacle in accelerating market growth across the globe. In the post-pandemic era, IPLOOK will actively take part in global online summits as well as devote to technical workshops or conferences, keeping enhancing its presence in the global core network market. Of course, we will explore more tunnels to develop new business opportunities online.
Q: What are IPLOOK's objectives for its further development this year?
Tom: For the following quarters in 2022, three major objectives are significant for IPLOOK: Innovation always plays a significant role. The first goal is to invest more resources on R&D to better match the emerging telecom market
We also plan to work closely with industry associations we have joined for deep involvement in Technical Forum and development of Communications Standards.
Finally, with the vision of actively expanding the global market, we will reinforce IPLOOK's vigorous enterprise culture from all aspects.
Q: What trends did you notice in the core network market?
Tom: According to a published report from Dell'Oro Group, core network market is poised for take-off this year. From my point of view, the core network market is worth to exploring with great potential by virtue of the rapid development of 5G. Furthermore, IPLOOK actively embraces the tendency of deploying core networks on cloud, providing more possibilities for our clients to build their own networks.