IPLOOK Officially Becomes a Member of WISPA
IPOOK officially becomes one of the members of Wireless Internet Service Providers Association (WISPA) in June as a mobile core network provider.

A wireless Internet service provider (WISP) is an Internet service provider with wireless networking, providing reliable and convenient broadband access services for campus, rural area and commercial buildings. As the fastest developing branches in broadband access industry, wireless broadband access is upheld by enterprises for its high income, fast technology innovation and diverse access technology. Meanwhile, it can be upgraded rapidly based on its current wireless equipment, fibre optic, cables and other resources from operators.

Nowadays, WISP is mainly distributed in rural and suburb area where cable modem doesn't work well . Digital divide in these areas can be reduced by deploying wireless broadband access.

There are two sorts of wireless broadband access technologies:
· Wireless broadband technology such as MMDS, WiFi, WiBro, WiMAX and MCWill technology
· Cellular Mobile Communication including LTE. In early 21 century, the popular communication technology is Wimax. LTE Mobile Communication is more likely to cellular mobile communication system used by mobile phone. But then, because of the appearance of HSDPA, LTE began to be applied to wireless broadband access. Moreover, LTE can utilize the 2/3G frequency spectrum resources, so it has strong penetrating capacity and wide coverage, which makes LTE better than WiMAX.

As a leading mobile core network provider in the globe, IPLOOK has already joined WISP LTE in 2015. IPLOOK can provide professional WISP Solution for operators and enterprises. IPLOOK also has mature deploying experience in some southeast Asia and middle east countries, which brings more business opportunities for both IPLOOK and other wireless broadband operators. Under this circumstance, win-win cooperation can be achieved in the future.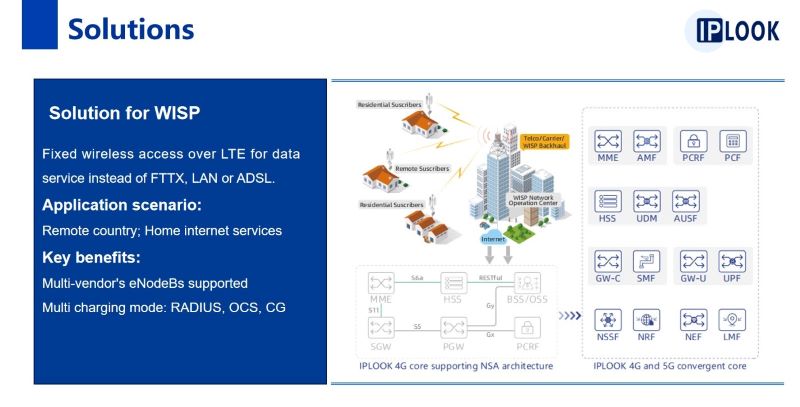 IPLOOK WISP Solution
About WISPA
WISPA consists of innovative entrepreneurs who provide fixed wireless and other broadband solutions to consumers, businesses, operators and so on.
For more information, please visit the website: https://wispa.org/

About IPLOOK
Established in 2012, IPLOOK is an industry-leading developer of full stack 3G/4G/5G core network and IMS software. IPLOOK tailors the cost-effective, highly integrated mobile core network solutions for MNO, MVNO, WISP and Private Networks.
Contact us if you are interested about our WISP solution.