IPLOOK Technologies Co., Ltd (Branded as "IPLOOK"), a leading software company of 3G/4G/5G core network which can provide flexible development, customized services and end-to-end mobile core solutions to Operators, MVNOs, WISPs and Enterprises, announced a strategic partnership with AsiaInfo International (Branded as "AsiaInfo"), a native cloud BSS provider professional in Cloud Billing and Cloud Contact Center. Together, the companies will provide high performance and more scalable end-to-end 5G solution for the Telecom Industry.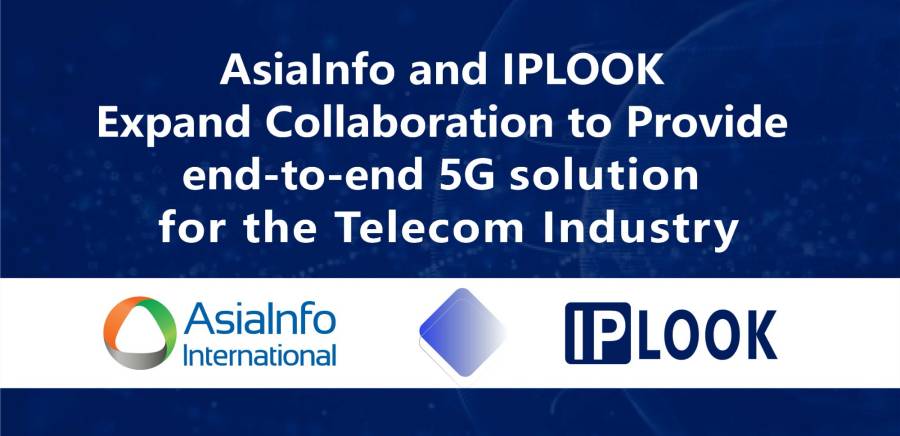 Recently, the IPLOOK 5GC product has completed the IOT in accordance with 3GPP standard with AsiaInfo CHF. The IOT includes IPLOOK's 5GC elements: Session Management Function (SMF), Policy Control Function (PCF), User Plane Function (UPF) and AsiaInfo Charging Function (CHF). It turns out that both the 5GC and the CHF is qualified and conform to the industry standard.
The IPLOOK 5G Core Network (5GC) product adopts a separate control and forwarding architecture, which enables independent mobility management and session management.
A Service Based Architecture (SBA) is as followed:
AMF, SMF, PCF, UPF, UDM, AUSF, NSSF, NRF, NEF Full Functions
• AMF: Access and Mobility Management Function
• SMF: Session Management Function
• PCF: Policy Control Function
• UPF: User Plane Function
• UDM: Unified Data Management
• AUSF: Authentication Server Function
• NSSF: Network Slice Selection Function
• NRF: Network Repository Function
• NEF: Network Exposure Function
All of these functions can support VoNR/VoLTE/CSFB to allow operators to meet a variety of voice application scenarios. It has flexible deployment and is high scalable to enable more granular end-to-end management and control of traffic flows and applications.
AsiaInfo released the light version of the cloud native BSS product – VerisLite which allows customers to focus on their business without deploying and managing enterprise software.
Veris Lite offers you the following on the cloud:
• Customer Care, Order handling
• Customer Self-care
• Product Catalog
• Convergent Charging Engine
• Voucher, Top-up
• Billing & Payment
• Policy Control
• 5G Enablement
And the new component CHF connect to 5GC following the 3GPP standard fulfill the Online charging, offline charging and convergent charging which can enable the 5G business like slice charging scenario in industry 4.0.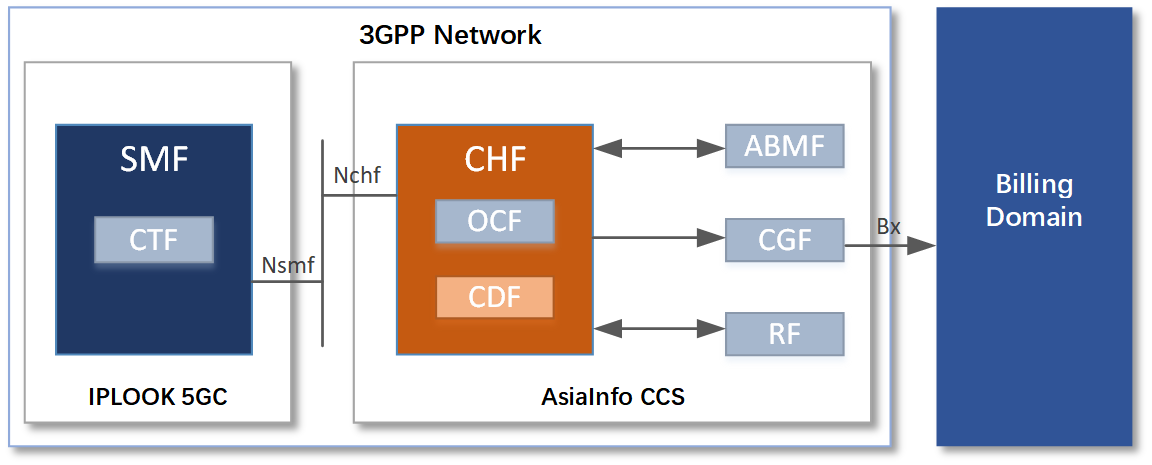 Interoperability between CHF(AsiaInfo) and SMF(IPLOOK)

IPLOOK 5GC has several Network Function (NF) including SMF, which can be independent and autonomous to achieve automatic management. Converged Charging System (CCS), a new billing method, appears to adapt to the SBA architecture. Online (OFCS) or offline (OCS) billing is to obtain billing information first, and then send it to different functional entities. While CCS integrates the OFCS and OCS, and uses the unified service interface NCHF to connect with the NF on the network element side. CHF is a critical element of CCS. Therefore, the IOT between IPLOOK and AsiaInfo proves that two companies have reached closer cooperation, will jointly create high quality and reliable 5G Core Network, billing products and solutions for operators and accelerate the application of 5G Network Solution in the market.
"IPLOOK adheres to the principle of openness and win-win for cooperation. The successful IOT with AsiaInfo CHF can bring a wider range of options to customers and IPLOOK will join forces with AsiaInfo and other partners to provide more innovative and cost-effective solutions for MNOs in emerging markets," said Jarod Wang, VP at IPLOOK Technologies.
"Beside the traditional industrial business, Operators and industry users will carry out more extensive cooperation after the vertical industry has a full understanding of the 5G network capability. There will be a brilliant future on the integration 5G network with cloud computing and edge computing. AsiaInfo and IPlook will work together to provide end-to-end products and solutions to the vertical industry." said Junwu Wang, the Chief Solution Architect at AsiaInfo International.
About IPLOOK
IPLOOK is an industry-leading end-to-end wireless solution provider. Our highly scalable virtualized 3G/4G/5G core network and IMS products which can be deployed on COTS or Cloud, have been widely used in MNO, MVNO, WISP and Private Networks.
We maintain a strong concentration on core network, such as 5GC, EPC, IMS, NB-IoT core, MEC, GTP-Router, STP/DRA and MCPTT system. Until now, IPLOOK services cover 35 countries and regions for more than 30 million subscribers. We are committed to helping you connect everywhere and everything.
More information can be found at: https://www.iplook.com or follow us on LinkedIn @IPLOOK Technologies.
About AsiaInfo
We are native cloud BSS provider. We've been in the BSS business since 1993. Cloud Billing, Cloud Contact Center are our strong suits. AsiaInfo was founded in 1993, AsiaInfo embarked the international journey since 2007. Over the past decade, AsiaInfo International has established concrete client base across continents, cultures and IT barricades.
In recent years, AsiaInfo International offers not only conventional on-premise BSS to large telco operators, but also started leveraging native cloud to bring the mega carrier grade systems and features to various scales of businesses, and to a wider range of industries way beyond the telco world.