According to the latest news from the Ministry of Industry and Information Technology (MIIT), over 500,000 5G gNodeBs have been built and opened across the country, with more than 100 million terminal connections. 5G applications have covered a wide range of fields, including industry, healthcare, media and transportation. 5G will enable the digital transformation of all industries and lead to vertical industry applications and the Internet of Everything.
5G will lead to the digital transformation of the whole industry and vertical industry applications to realize the Internet of Everything. What kind of core network is needed for 5G? What features are currently available? What about actual deployments? Learn more about IPLOOK 5GC together.

IPLOOK new 5G core network officially launched
Based on the 5G core network (MME/AMF, HSS/UDM/AUSF, GW-C/SMF, GW-U/UPF, PCRF/PCF) released last year, IPLOOK now officially launches NSSF, NRF, NEF network elements to meet 3GPP R15/R16 standards, realize 3G/4G/5G core network convergence, and ensure smooth upgrade to 5G for existing users.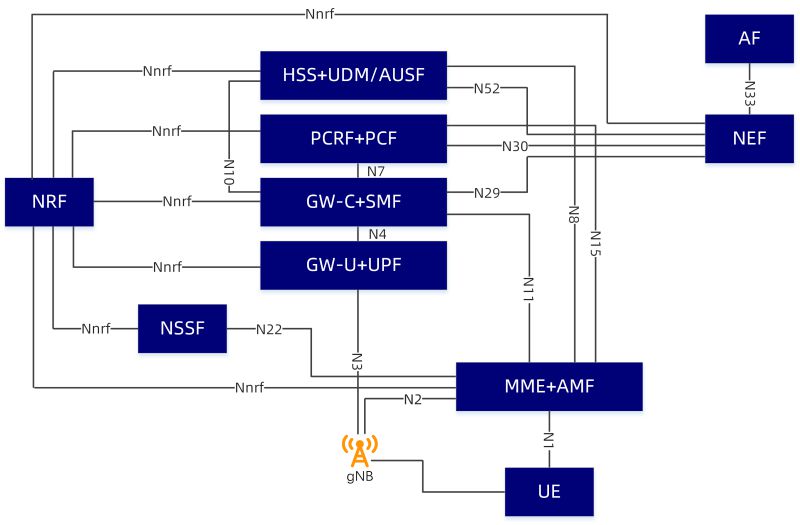 NSSF:Network Slice Selection Function
The concept of network slicing is introduced in 5GC, which can provide performance requirements and high user experience that simultaneously meet diverse applications. For this purpose, a new network function, NSSF, is proposed to support network slicing selection.
NSSF is a key service of SDN/NFV technology applied to 5G networks. 5G uses network slicing technology to select the set of network slicing instances that provide services to UEs, and slices a physical network into multiple logical networks to achieve multiple uses and provide personalized network services to users.


NRF: Network Repository Function
NRF, one of the network functions of the 5G core network. It supports the service discovery feature, which receives NF discovery requests from NF instances and provides information about the discovered NF instance (discovered) to another NF instance. Registration information includes NF type, address, service list, etc.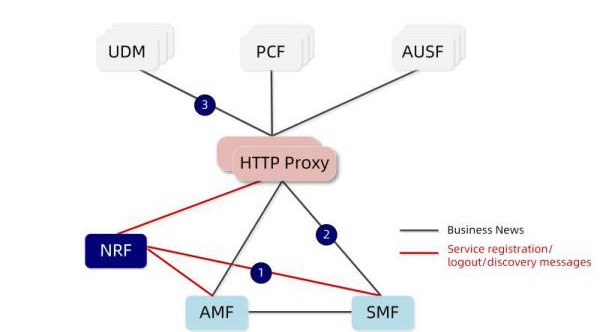 The NRF is the management center of the service-oriented architecture.
l Support for service discovery features
l Maintenance of NEF information, including availability and its support services
NRF and HTTP Proxy collaborate on 5G signaling routing functions.
l Services without subscriber number attribution use NRF addressing, such as AMF addressing SMF, similar to DNS for 4G networks.
l Services with subscriber number attribution use HTTP Proxy addressing, such as AMF addressing UDM/PCF, SMF addressing UDM/PCF/OCS.
NEF: Network Exposure Function
NEF, located between the 5G core network and external third-party application functionaries (and possibly some internal AFs), is responsible for managing the external open network data, and all external applications that want to access the internal data of the 5G core must pass through the NEF. QoS customization capabilities open, mobility state event subscriptions, AF request distribution, and more.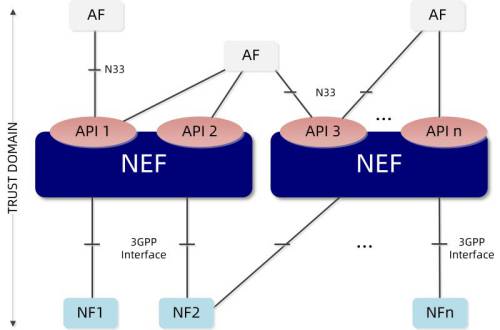 The NEF communicates with each NF via a southbound interface through a northbound API that provides AF with access to 5GC data or the use of certain functions. 3GPP interface refers to the southbound interface between the NEF and 5GC network functions, such as the N29 interface between the NEF and SMF, the N30 interface between the NEF and PCF, and so on.

5G SA Commercially Available, NSA/SA in a box
IPLOOK 5GC supports the convergence of NSA and SA by adapting to the trend of network evolution and new 3GPP standards.
IPLOOK 5GC supports both SA and NSA networking, has the ability to converge 4G/5G core network, supports the smooth upgrade of 4G core networks to 5G core network, and provides flexible network slicing services and cloud services for enterprise private network customers.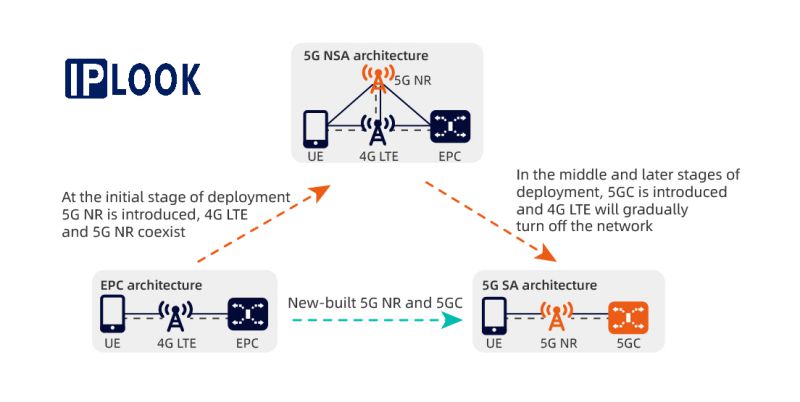 IPLOOK is based on 5G Option2 independent networking, supporting interoperability between 5G and 4G networks in the core network. It realizes 2G/3G/4G/5G perfect compatibility, ensuring that even when there is no 5G network, the terminal can fall back on 4G and 3G networks normally.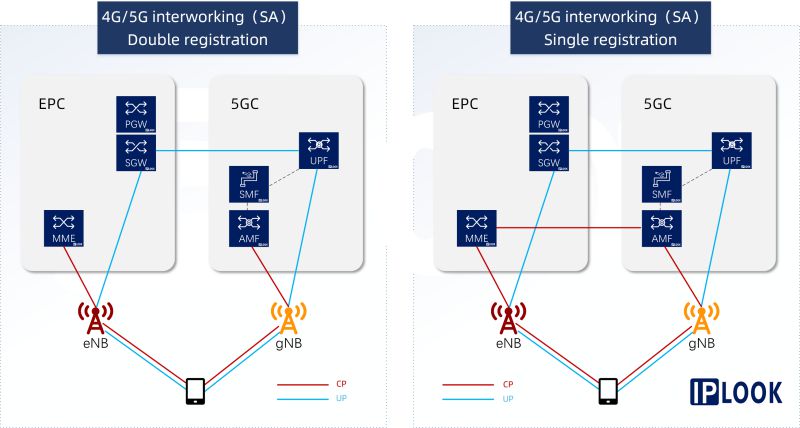 As 5G private network is one of the breakout points in the 5G era, IPLOOK has customized two 5G private network deployment solutions based on the needs of enterprise customers.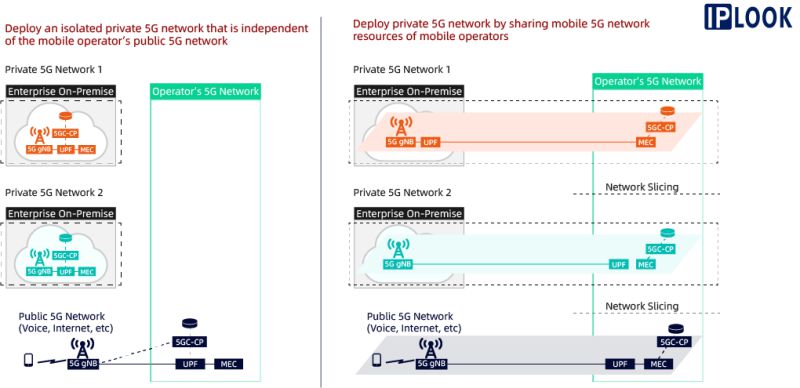 Meanwhile, IPLOOK 5GC also supports 5G VoNR and EPS fall back (voice fall back technology) to bring better experience to consumers, which will have a significant impact on vertical industries.
In order to realize the application needs of 5G private network in various industries and scenarios, enterprises and parks need compact, lightweight and highly customizable core network products. IPLOOK can be customized according to the needs of enterprise users, and at present, IPLOOK industrial private network can be applied in many industries such as mining, education industry, railway, satellite and Internet of Things.

IPLOOK 5G Core Network Use Cases
Found in 2012, IPLOOK provides innovative technology and telecommunication solutions to telecom operators and enterprise customers in more than 30 countries and regions on five continents, with its highly reliable 2G/3G/4G/5G core network.
IPLOOK has established extensive cooperation with a number of domestic and foreign base stations and billing partners to build a complete industry chain. IPLOOK is one of China's major core network suppliers, and all products have the network access certificate of the Ministry of Industry and Information Technology.
Through continuous upgrades and improvements, IPLOOK 5GC is now compatible with X86 hardware platforms of various manufacturers and mainstream virtualization platforms, providing a full-featured, high-performing 5G core network, while achieving core network lightweight, making the entire operation process more simplified.
▫ IPLOOK 5GC Deployment Solution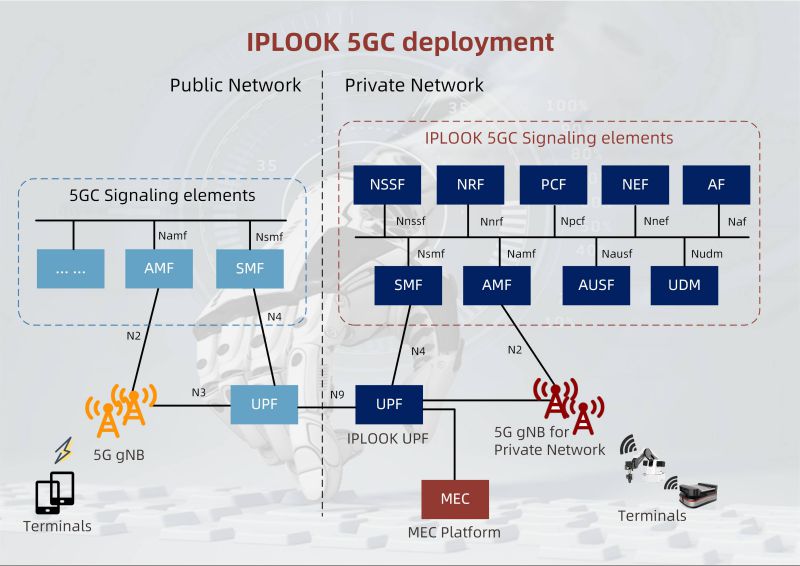 ▫ IPLOOK UPF Deployment Solution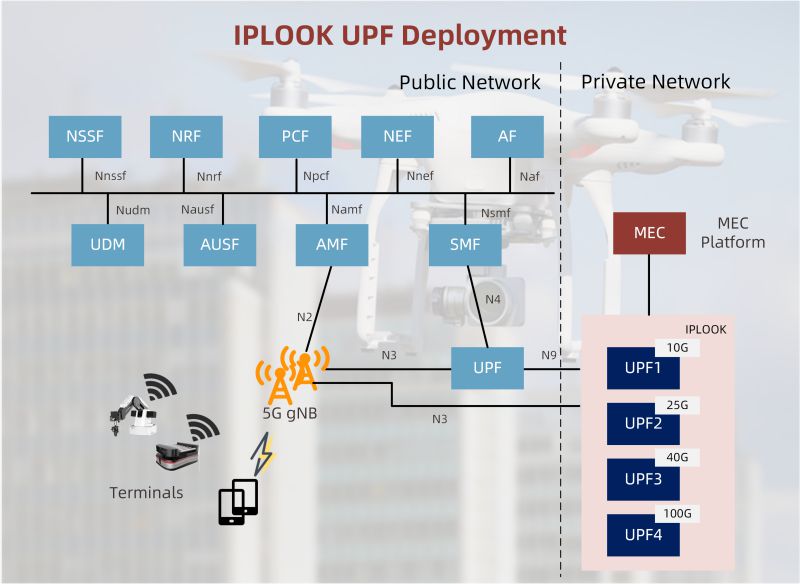 Focus on the core network, and "customize" it for you

The 5G era has brought business opportunities. 3G/4G is generally focused on mobile communication services for the masses, while 5G is deeply rooted in applications across vertical industries. With the further coverage of 5G, IPLOOK will start to work on 5G industry-specific networks, enabling a wide range of industries.
IPLOOK will continue to focus on research and development of core networks and provide customized private network services for enterprises in various industries to realize the Internet of Everything and help customers obtain greater value with 5G technology.