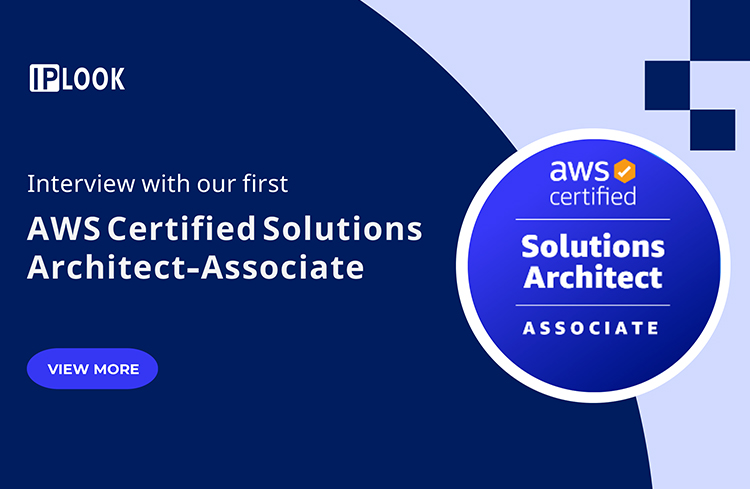 Congratulations to the first AWS Certified Solutions Architect - Associate in IPLOOK!
Max Guo, Technical Support Engineer, is qualified for designing resilient, high-performing and cost-optimized cloud network architectures. In this interview, Max shares what he prepared for receiving the certification of AWS SAA and how he believes AWS cloud's strengths lie in the telecom market for telcos.
Q: Could you please introduce your job in IPLOOK?
Max: My role in IPLOOK is a technical engineer of the Global Technical Service Department. We provide professional service and managed service to customers, including technical solutions, implementation, maintenance, and technical training.
Q: Do you have any projects or experiences with AWS cloud platform?
Max: IPLOOK's core network can be deployed on AWS perfectly. Therefore, even though I have more project experience on X86 server than AWS Cloud, I have opportunities to study a lot of core network practices on cloud platforms and do experiments.
Q: What's your purpose or motivation for AWS Certified Solutions Architect? What enhancement do you think this recognition will have on your capability and work?
Max: As a technical engineer, it is necessary to understand the latest technologies. Furthermore, cloud computing technology can fit well with our core network products. Personally, I am also interested in learning cloud computing. These factors motivate me to take the AWS SAA certification.
This recognition proves that I can undertake related cloud network deployment. During the preparation, I learnt the principles, applications, and extensions of cloud computing, which enable me to provide better technical services for customers with cloud platforms in the future.
Q: How can you receive the certification? Is that difficult for a core network engineer?
Max: That's easy for me! The exam mainly covers high-performance computing, networking, storage, security, and best practices on the cloud platform. To receive the certification, I list following steps for your reference:
Step 1: Create your own AWS account, so you can enjoy its free package of 700 hours per month. It contains more than enough services for the usual experiments.
Step 2: Explore resources on the internet, and follow the guide for practical exercises, which will make you more impressed.
Step 3: Do simulated exams to test your learning results and get ready for the exam!
The knowledge you gained from this process is the most dazzling badge.
Q: As we know there are some companies are providing 4G or 5G core networks on cloud. What's your opinion on that?
Max: Actually, 5G carries the gene of cloud computing from its inception. The SBA architecture allows the 5G core network (5GC) to focus more on the services. Speaking of services, we must figure out one of the most important concepts of cloud computing - software as a service (SAAS). The core network is essentially a software service, and cloud computing or traditional servers are just a way to implement the service.
From market perspective, we will tend to choose the option that creates more values. Compared to traditional servers, cloud core network has following advantages:
1. Lower CAPEX and reduce time-to-market:
· Deploy cost-effective core networks with the pay-as-you-go model
· Achieve on-demand replication
· Enhance the resource utilization
· Reduce the cost of O&M with the cloud hosting model
2. High reliability: Multiple backups provide up to 99.99999999999% reliability
3. High performance: Large bandwidth, low packet loss, low latency (end-to-end latency <20ms in most regions).
4. High security: Cloud platform has richer security measures and stronger encryption capabilities.
Q: How to combine IPLOOK's core network with AWS cloud platform? What will the combination bring to customers?
Max: There are excellent cases in the industry where the combination of core network and cloud platform has been used. IPLOOK's core network elements have been tested and validated on all major cloud platforms. We can provide carrier-grade core networks on cloud.
Depending on the customer's requirements we can deploy the core network control plane on the cloud, and sink the data plane to the customer's local area. This architecture ensures a cost-saving solution for low latency user experience.
Q: As for deploying core network based on AWS cloud services. What aspects do you think can be improved for cloud-network convergence, to better meet both the commercial and technical demand from telcos?
Max: Deploying IPLOOK 5G core on AWS offers a simplified and faster 5G network deployment at a lower cost.
To better satisfy customers' needs, two main aspects should be noticed in the future:
· Enhance the network capabilities, especially the capability of network elements in the data plane to forward data in core network.
· Enhance the unified operations and maintenance between cloud platform and local network.
Regarding the cost caused by massive data transfer out for cloud network deployment, we hope that AWS will optimize the pricing policy in the future.
Q: If AWS is not a good choice for small FWA providers, why do big operators choose AWS?
Max: Well. The big MNOs can choose different solutions on AWS. For example, DISH in the US is using Outpost for 5G core network. The AWS Outpost integrated virtualized computing, networking, security and orchestration. That's excellent! Between different sites we can use AWS Wavelength as DCI. The data throughput between core network and eNodeB/gNodeB could be carried by local optical or microwave transportation networks.
I hope we can deploy IPLOOK's core network with AWS Outpost for customers soon.