Interoperability is often described as a characteristic of a product or system, whose interfaces are completely understood,
to work with other products or systems, at present or in the future, in either implementation or access, without any restrictions.
In this regard, any Service Provider looking to deploy products and solutions from potential vendors often undergo interoperability testing
with potential vendors as a "proving-in" activity before signing off and giving the green light to deploy products and solutions for their end customers.

On a Service Provider's path to any successful commercialized deployment often involves pre-planning and rigorous testing to ensure
the viability of a vendors offering whether it be a greenfield or brownfield deployment. A close collaboration between
a prospective customer and prospective vendor is often key when trying to prove-in any technology destined for commercial use,
and when it comes to new leading edge technologies such as those intended for 5G network implementations, the story is no different.

---

Successful 5GC Interop Testing between Kaloom and IPLOOK
Recently, Kaloom performed interoperability testing with IPLOOK's leading edge 5G core network(5GC).
Kaloom is comprised of a group of technology veterans with proven track records of delivering large-scale networking, analytics and AI-based
solutions for the world's largest networks. Having come from leading companies including Ericsson, Xelerated,
Cisco, Redback Networks, 3Com, Nortel and Apple, they have come together to build a critically-needed solution to address
the emerging challenges in data center networking.

The testing undertaken involved both IPLOOK and Kaloom setting up the required hardware and then deploying and configuring the
system set-up via a remote connection. The testing involved the execution of a list of targeted test cases. As highlighted in the following figure
the testing concentrated on Kaloom's programmable multi Tbps UPF integrated into its fabric. The solution is proven to provide improved
performance at a fraction of the cost when compared to expensive X86 based solutions while significantly lowering network latency from seconds
down to milliseconds to meet the demands of latency sensitive applications such as IoT, AR and VR.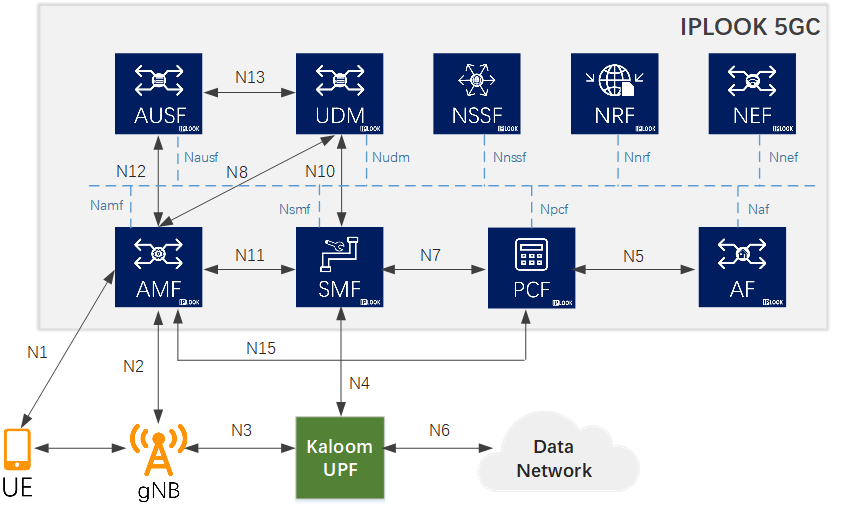 Testing the UPF functionality specifically involved running testcases whereby communication between IPLOOK's 5G Core
was established with Kaloom's UPF. As shown in the figure below, the test setup involved a Spirent Landslide mobility test tool used to simulate
the 5G RAN and the Data Network via the N3 and N6 interfaces respectively, while IPLOOK's 5GC interconnected
with Kaloom's UPF via the N4 interface.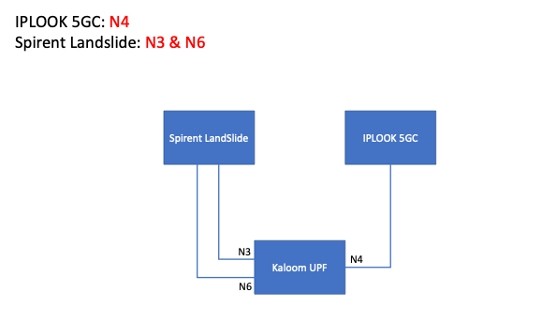 By emulating 5G devices and network functions, test cases were executed remotely with the aim of ensuring that
IPLOOK's future mobile networks would be ready for successful 5G rollouts. The conclusion of the testing proved that Kaloom's UPF
can interoperate with IPLOOK's 5G core network to provide end-to-end 5G service. The attestation of this interoperability was
solidified with the issuing of a test report summarizing the testing which both IPLOOK and Kaloom signed. The confidence instilled
by the successful results of the interoperability testing between both companies enables further engagements to be pursued. Above all,
joint solutions that have undergone rigorous interoperability testing will ultimately benefit end user customers in their
production deployments and deliver operational peace of mind.